PORTLAND, Ore. – Oregon is poised to spend an unprecedented $200 million to move people off the streets and into homes, build more housing and pay some residents' rent. But critics say throwing money at housing won't fix the state's homeless crisis.
"If money were the solution, we would have already solved it," Kevin Dahlgren, who has nearly three decades of experience in social work, told Fox News. "The solution is the approach. The approach is all wrong."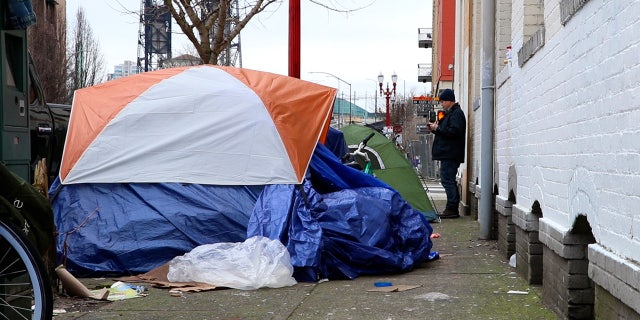 Kevin Dahlgren, a drug and alcohol counselor, stands near a row of tents on a Portland sidewalk on Feb. 17, 2023. (Hannah Ray Lambert/Fox News Digital)
OREGON BILL WOULD PAY HOMELESS PEOPLE $1,000 A MONTH
Oregon Gov. Tina Kotek declared a homeless state of emergency and asked for $130 million to address the problem on her first day in office. State lawmakers decided that figure wasn't enough and introduced two bills totaling $200 million in emergency spending for the next two years, according to The Oregonian.
"This is a generations-long problem that we find ourselves in," Rep. Maxine Dexter, a Democrat from Portland, said on the Oregon House floor. "Homelessness, indeed, cannot be addressed without providing access to safe and affordable housing."
Both bills passed the state House overwhelmingly, with only Republicans opposed. They now head to the Senate.
But homelessness is not solely a housing problem, Clackamas County Commissioner and registered nurse Ben West told Fox News.
"It's a human problem with root causes that we continue in Oregon and in the Portland area to divest from tackling," West said. "Putting an addict behind four walls in an apartment and isolating them is not solving anything. Instead of OD'ing on the street, they're OD'ing on a hardwood floor."
WATCH: PORTLAND HOMELESS CRISIS 'JUST GETTING WORSE'
WATCH MORE FOX NEWS DIGITAL ORIGINALS HERE
About 80% of the homeless in Portland have a history of addiction, Dahlgren said. He believes the focus should be on detox, rehab and recovery housing, in that order.
"We don't have nearly enough detox programs," he said. "My colleagues with a different ideology think this is an affordable housing issue, so let's put 90% of money towards that."
Dahlgren said instead, 90% of the resources need to go toward detox and outreach.
"Because that's step one," he said. "If you don't get through step one, it doesn't matter what step 10 is. They will never reach that goal."
Oregon has the third-highest rate of homelessness in the nation, despite skyrocketing spending on homeless services over the past several years.
In the Portland area, where the crisis is most apparent, the Joint Office of Homeless Services' budget ballooned from $48.3 million in 2017, according to KATU, to $255.5 million this year.
CRIME TURNED PORTLAND INTO A 'HOLLOWED OUT SHELL.' ITS NEIGHBORS ARE TRYING TO KEEP IT FROM HAPPENING TO THEM
"What once was this cause really became this multimillion-dollar industry," Dahlgren said. "Yet the crisis continued to grow every year and pretty quickly I was realizing, like, I feel like we're part of the problem."
Dahlgren said tactics for addressing addiction and homelessness "shifted from permanent solutions to Band-Aid approaches" like handing out tents, tarps, sandwiches and syringes.
"We basically are allowing people to slowly kill themselves," West said. "We are loving them to death."
The bulk of Oregon's $200 million plan would pay for landlord incentives, mass leasing programs and rent assistance, The Oregonian reported. It would also fund more shelter beds, the production of modular homes, farmworker housing, trash pick-up and culturally responsive organizations.
But West said the housing-first approach fails to address mental health and addiction problems.
CLICK HERE FOR THE FOX NEWS APP
"We can get people stable and then get them on a continuum of care where at the end they are self-sufficient and whole people, gaining a hold of their potential, seeing their intrinsic worth and value, and not being a slave to this disease of addiction, of substance abuse or their mental health issues," West said.
Dahlgren said his ultimate goal is to work himself out of a job.
"We could end this crisis in months, not years," he said. "Not with more money, but with more focus on the money we already have towards the outreach."
Hannah Ray Lambert is an associate producer/writer with Fox News Digital Originals.